Greg Hill of Rochester has overcome many obstacles. He lived in long term care for 12 years and was so excited to move out in April and get his own place. But going from 500 housemates to just him alone in his apartment wasn't the easiest to get used to. That's where Ms. Ellie the cat came in at the "purr-fect" moment, thanks to Greg's advocate Heather Burroughs who made sure Greg had a best friend to keep him company.
Things were looking up for Greg and his cat Ellie but unfortunately this holiday didn't start off too bright. His personal care attendant agency left him. They didn't have enough staff to cover his hours. Greg called his advocate Heather and said he was stuck in bed (not his power chair) and didn't want to call 911 because he was afraid he'd be stuck in the hospital during the holidays. His birthday is on Christmas, too. Greg couldn't get to his food or medication. He overcame so much and now he was left feeling very alone. That was until the community stepped up to help him.
No sooner that Sweet Buffalo posted on Facebook about Greg and Ellie the cat that complete strangers began commenting and messaging asking how they could help. Maryanne Mychajiliw McMahon donated a new Christmas tree and a ton of decorations to Greg. Be A Blessing Buffalo teamed up and purchased Greg a gift, and the community donated funds to help him find home care. Today Greg's advocate Heather brought her whole family to his house to decorate the Christmas tree and this is what Greg had to say about the outpouring of love.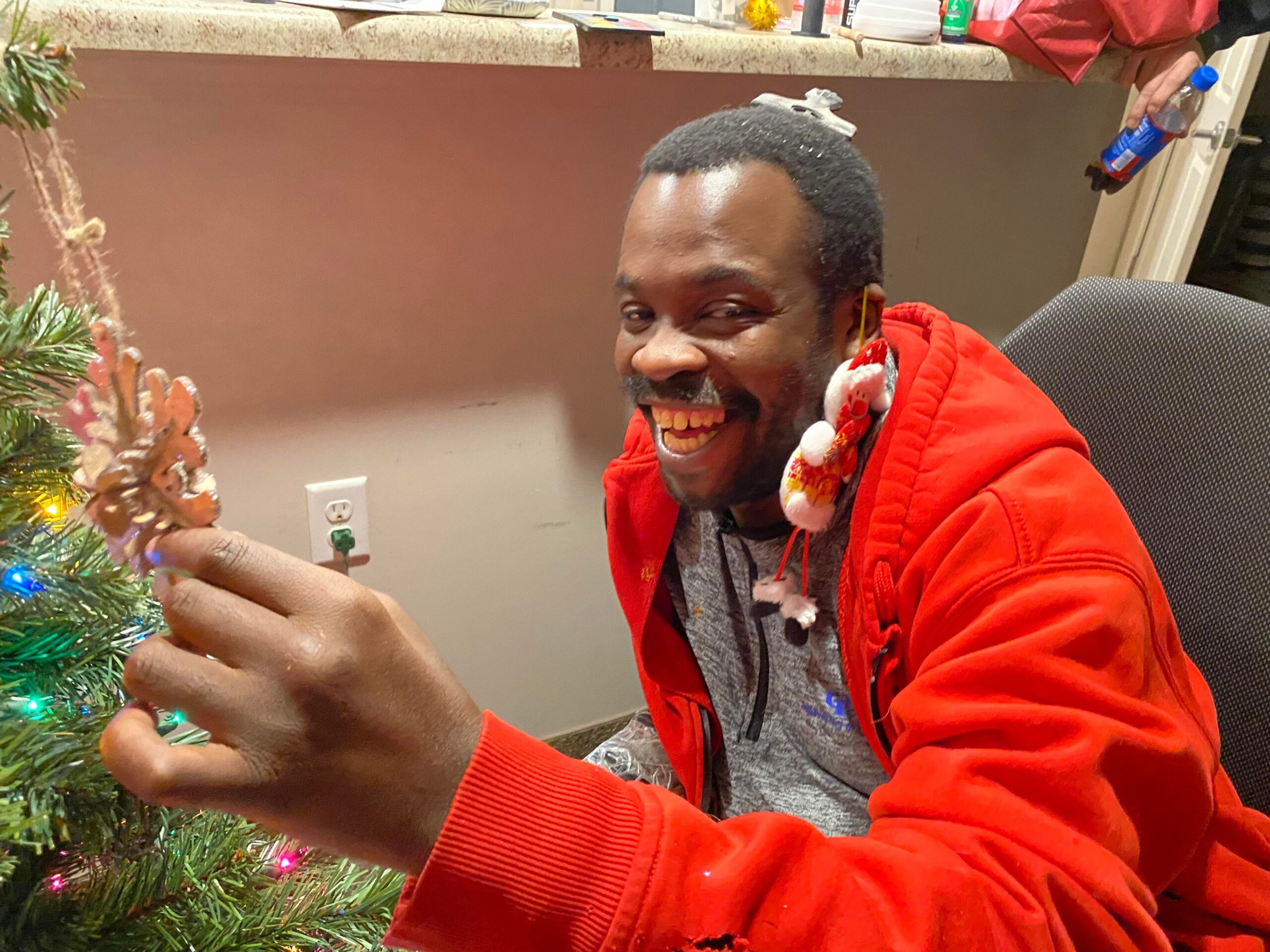 "People like me see stuff like this happen in the movies, but we always laugh it off and say that will never really happen. Then when I am at my lowest and really feel like the world doesn't have room for people with my needs…complete strangers come in and get me a tree and donate food and toys to my Ellie-Cat and I think this is my Hallmark movie! For real.
I still can't believe how nice people have been and it helps me believe that I'll get through this tough patch and not lose my apartment. I don't want to live at another facility again. I'm grateful I had that care after my accident, but now that I've experienced this… now that I am having a real Christmas in my own place, I can't go backwards. I won't. I will make the most out of this gift."
You are a gift, Greg. Merry Christmas. 
For more sweet stories, follow Sweet Buffalo on Facebook.