Teddy the special pitty who was rescued from closing animal shelter in need of a home, please share
I saw a Facebook post on Wednesday pleading for fosters for the last two remaining dogs at the Buffalo City Animal Shelter as they prepared for a potential shutdown due to the COVID-19 pandemic. I saw his wrinkle face and just couldn't say no. We pulled Patrick – now Teddy – with the help of Queen City Pitties.
While I've only had Teddy for a few days, I can tell you he's full of life and loves belly rubs. He gets the happy hops when we go outside and it's the absolute cutest. He is about four years old and housebroken and crate trained. He seems to know some basic commands but we will get him up to full speed in no time.
He is currently suffering from dry eye, which is is impairing his vision so he (endearingly) runs into inanimate objects. We believe this is a temporary condition that will clear up with medication (which we are administering).
We are happy to say he's good with kids but because his vision is limited we have instructed our son (who is almost 9), out of an abundance of caution, not to give him treats or reach over his head. He currently does best when treats are given with an open palm or placed on the floor.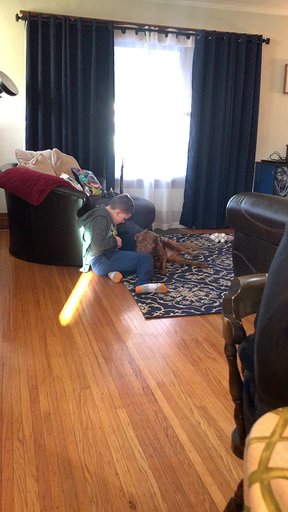 He did well with other dogs at the shelter but we are waiting to introduce him to our own dog. He was neutered and had a wart removed so not only does he need to physically heal but we are giving him appropriate time to decompress from shelter life, too. As with his vision, we will further evaluate him in time, but so far, he's interacted politely with our dog through this crate. We are seeing a lot of positive signs.
You can follow along for regular updates on Instagram and Facebook with @carlothepibble as well as Queen City Pitties. If you're interested in adopting Teddy, please fill out an application here: https://queencitypitties.com/adoption-application/.