Women doing what they love: Meet WNY lifestyle photographer Jenny Sondel
Here at Sweet Buffalo we commend women who are brave enough to leave that 9 to 5 to chase their dreams. It takes an incredible amount of courage to believe in yourself enough to start your own business, which is why we'd like to introduce you to WNY lifestyle photographer Jenny Sondel.
Sondel is a jack of all trades. She graduated from Buffalo State in 2009 where she majored in communications. She then landed a job at WIVB Channel 4 News as a sales assistant, and upon realizing her passion for photography, she decided to open up her own business, Jenny Lynn Photography. But when she had her pride and joy, a little boy named Ricky, she knew it was time to focus solely on her family and her business. Here she tells us more about her inspiration for capturing memories for families all over WNY.
1) What made you get into the photography business? 
I've always loved grabbing the camera when I was younger and capturing moments. When I was in fifth grade my mom bought me my first film camera on moving up day. I remember taking tons of photos and running to Walgreens to get them developed in an hour. I could never wait the two days by sending them in, I was too excited to see them. I would take three rolls of film on vacation with me. When I was 17 entering my senior year, my mom purchased me my first Nikon point and shoot digital camera. I continued to capture so many moments throughout the years of high school and college. I loved the instant gratification of getting to see them as I took them. I still didn't realize photography would be in my future professionally. I went to college for communications and every time I went out I was known as "Jenny with the camera." After four years I graduated and my mom threw me a graduation party. My cousin, Karen, who is also a photographer, and I got talking and she offered to sell me her dslr camera. I took my graduation money and purchased her Nikon D40. It was one of the most exciting purchases I've ever made. The quality of the photos I was taking with it blew me away. My cousin invited me to join her as a second photographer at a handful of weddings and I knew then that capturing moments in time for others was my true passion in life. Since then my cousin has taught me so much; I take online classes to improve my work and have really found photography helped me find my way.
2) How many years experience do you have now and what do you love most about it? 
I started learning in 2009. At the time I thought I was killing it with editing in 15 different styles. Looking back now I realize how much I've improved. I'm always learning and have found my photography style over the years.
3) What type of photography do you do and why? 
I started with families, newborns, special events, engagements, weddings…I wanted to capture it all. Over time I've come to realize I wasn't able to give my all into sessions and needed to focus on what I was best at. I've come to realize my strengths are in families especially with young kids and lifestyle newborn sessions. I occasionally still capture engagements and senior sessions which are a fun change of pace once in a while.
4) What are some of your favorite memories or photos taken?
I love when clients want to end a session with a fun activity or getting messy. I once had a family create a painting at the end of a session, another couple shook up champagne and shot it at each other and one of most memorable was a snowball fight at the end of a session with an amazing little boy. I couldn't help but put the camera to my side for a second and soak in his adorable laugh and smile knowing one day his family was going to look back on these photos and remember this moment, remember how happy they all were together and will cherish this fun experience forever.
I also love photographing newborns. I love that I get to meet them at the very beginning of their life. Especially hospital sessions when I take the families very first family photo. It's such an honor to have opportunities I otherwise wouldn't have.
Above all 3 years ago I had my little boy and he's been my favorite model. He's so cooperative (sometimes I need a bribe to get him to go along with a photo session) I have captured so many quality photos of him that are framed all over our home. I am all about phone cameras these days and the convenience of them but there is nothing like having a collection of high quality images of my son that I can share with him when he gets older.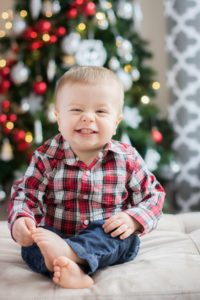 5) When is the best time of day to get photos done and why? 
The golden hour! I barely ever shoot sessions during the day anymore outdoors. I always schedule sessions about an hour before sunset and it's made a huge difference in the quality of my images.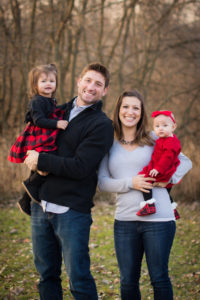 6) When you send your clients photos, what do you hope their reaction will be? 
I want them to laugh, cry and be thrilled with the results. I hope that they walk away with a good experience and look forward to working with me again. One of the most rewarding feelings is when I walk into a friend or family members home and see the photos I captured hanging all over their walls.
7) What do you think makes Buffalo sweet? 
The people are so kind, the places, the city of good neighbors, and the hidden gems of places I take photos at.
Book your session! 
Sondel captures photos on location or at clients' homes. For more information on Jenny Lynn Photography, visit www.facebook.com/JennyLynnPhotog/.
Now offering holiday mini sessions for $150
• 15-20 min at Billy Wilson Park in East Amherst
• Password protected online gallery to view your digital proofs and share with family & friends
• A link to instantly download edited, high resolution images directly to your Mac or PC
• Print release form to print your photos for personal use only
Email jennylynnphotog716@gmail.com to book your session or fill out this form: https://secure.jotform.us/jennylynnphotography/contact_jenny
Sponsored post